As we enter another season in which the Skinny Jean is trendy, we're finding it harder and harder to avoid. More stores have started carrying skinny jeans. They're affordable and easy to find. And, there are so many different ways to wear them, they're quite a must-have for the season.

I must admit to being very intimidated by Skinny Jeans when they became popular again a few seasons back. When they were last in style, I was about 8 and could pull them off with my twiggy little body. But, my body's changed a bit in the last 20 years.
It's hard to see yourself in a style made popular by Kate Moss and other similarly proportioned ladies. Most of us don't look like that. Which leads me to the question: Do you have to be skinny to wear skinny jeans? No! Absolutely not. The name is quite unfortunate. When most women don't even consider themselves to be skinny, why would they choose a jean labeled in such a way? Seems like a big mistake for those trying to market the jeans!


But, let's remember why they're called Skinny Jeans:
Different from flared or bootcut jeans, Skinny Jeans are tight throughout the leg, tapering in toward the ankle. The leg openings are 'skinny'.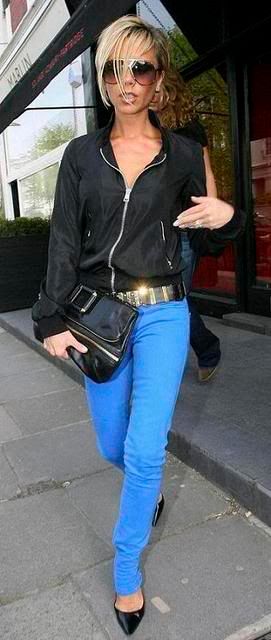 Skinny Jeans draw attention to your curves. "Why would I want to do that?!" you ask. Because it's hot…and there are ways to accentuate what you have using Skinny Jeans as a starting point.
Read more for specifics on how to wear Skinny Jeans depending on your body type.


First though, let's cover the basics: the different types of Skinny Jeans and, generally, what you should wear with Skinny Jeans.
Types of Skinny Jeans
Cigarette Jeans
So, what's the difference between Skinny Jeans and Cigarette Jeans? Very little and it depends on who you ask. The biggest difference is leg opening: The leg opening on Skinny Jeans gets smaller as you near the ankle. The leg opening on Cigarette Jeans stays the same from the knee all the way down to the ankle. Thus, Cigarette Jeans tend to bunch up a little if they're longer. Skinny Jeans do as well, but in an awkward way so you want to wear the right length.
Straight-Leg Jeans
Straight Leg Jeans are the classic jean that has never gone away. Usually, there is no stretch to a Straight Leg Jean and, slightly different from the Cigarette Jean, the leg opening stays the same from the thigh down. Less form fitting than the Skinny Jean or the Cigarette Jean.
Skinny Jeans
The ultimate definition of the Skinny Jean is three-fold: Form-fitting, Stretchy and Ankle-Hugging. Remember the slits and ankle zippers of the 80's? Not only were those cute little details, they also helped create a more snug fit to the ankle while still allowing you to get your foot through the opening.
So, in order of all over snugness, from Most to Least: Skinny Jeans, Cigarette Jeans, Straight-Leg Jeans. Before we even get to a discussion of body types, you can see where this is going. If you have larger thighs, Straight-Legs might be your best bet. If calves are your issue, you might try Cigarette Jeans.
What to Wear
Tops
Because Skinny Jeans are so tight, balance them with a fuller top. Tunics, short dresses, or drapey tops are good. Flatter your figure a bit more by belting the top at your natural waist. In general, tight tops paired with Skinny Jeans are unflattering unless they are hip length or longer. T-shirts that hit at the belt line can work especially if paired with a vest or blazer. If you do that, wear a skinny belt through the loops of your Skinny Jeans.
Shoes
Heels, heels, heels…
Unless you are super tall (in which case you can wear feminine flats OR heels), Skinny Jeans should be worn with heels. Heels make your legs look long and lean. Paired with the Skinny Jean, you're golden! The classic pointy-toed stiletto works well. Wedges also work. Peep-toes, ankle boots, booties, etc. can also work. Just don't pair Skinny Jeans with anything too chunky because, like one fashionista put it, you'll look like you have lollipops coming out of your jeans.
If you don't want to wear heels, wear a flat riding boot. This is a good combination in general. Especially if you want to draw attention away from problem areas like heavy calves or thighs.
How to Wear Skinny Jeans if Your Trouble Area is…
Calves
If calves are your problem area, consider wearing Cigarette Jeans instead of Skinnies. Cigarette Jeans are wider through the lower leg, leaving more room for your calves. You'll still get the form-fitting effect through the hips, thighs and butt. If you still feel like the look is problematic, pair with tall boot.
This Outfit:
cigarette jeans–J Brand
basic tunic–Velvet Maire
riding boot–Type Z Catie (extra wide calf)
scarf–Tolani Honeycomb Scarf
Tummy
If your tummy is the issue, the solution is pretty simple. Any of the three types of Skinny Jeans will work. Find a pair that has a fair amount of stretch in it. Ultimately, though, find the pair that you feel most comfortable with. What matters here is what you pair the jeans with. Go for a loose top with an empire waist. Definitely wear a feminine heel to elongate your legs and appear slimmer.
This Outfit:
skinny jeans–Baby Phat (sizes 14-26)
empire waist top–Corey Lynn Calter
purple heels–Charles by Charles David
Butt
Basically follow the same advice as for 'Tummy', but pay extra special attention to two things: the pockets on the jeans and the length of your shirt. Make sure the pockets on the jeans are low. They should end somewhere around the area where your butt and your thighs meet to make your butt look smaller. As far as the shirt goes, find one that lands at least at the middle of your butt if not longer. You can also pair your skinny jeans with a short dress. Make sure to find jeans that feel comfortable to you
This Outfit:
skinny jeans–Denim Lite (sizes 28-32)
long tank–Myne Sophia
ankle boots–Promiscuous
Thighs
If thighs are your issue, you might choose to go with a Straight-Leg Jean instead of Skinny Jeans or Cigarette Jeans. Straight-Leg Jeans will be form-fitting in your hips and butt, but will leave more room in the leg area. Also, since the leg opening stays the same, they won't draw attention to your thighs by clinging to them. The only problem with Straight Leg Jeans is that they often have little or no stretch. You'll have to find the pair that makes you feel the most comfortable. If you go with a Straight-Leg Jean, you can afford to go a little tighter on top.
This Outfit:
straight-leg jeans–Citizens of Humanity
tunic top–Tart Eaton
peep-toe heels–rsvp
No Curves
If you lack in the curve department, the nice thing is that you can wear tight tops and get away with it. The not so nice thing is that you run the risk of looking like you're 8 years old. To avoid this, stay away from t-shirt tops, empire waist tops, and flats.
This Outfit:
skinny jeans–Citizens of Humanity
racerback top–Madison Marcus
tall boots–Type Z Foxie
Tall
If you're tall, your main challenge will be finding Skinny Jeans that are long enough. Specialty cuts are often made in only one length, making it difficult for those who need things longer than the average person. The nice thing about Skinny Jeans is that you can wear boots over them, hiding the fact that they're too short. The other nice thing is that it's okay if they're a bit short. Pair them with a heel that has an ankle strap and it looks intentional!
This Outfit:
long skinny jeans–J Brand Pencil Leg (34″ inseam)
halter top–Charlotte Russe
purple heels–Stuart Weitzman Feline
Short
If you're short, you have a similar problem as those who are tall. Most of these jeans come in only one length. Lucky for you, you can have them hemmed. Only problem is, you'll lose some of the skinniness at the ankle if you have to cut too much off. Most skinny jeans come with an inseam measurement of 29″. Find a pair that's not too tight at the ankle. The bunching up is okay as long as it's bunching and not folding. For this reason, it might be best to find more of a Cigarette Jean. Pair with heels that will make you look taller and longer. If you can get away with it, also go for a long, lean look with your top. A tight-fitting tunic is a good bet.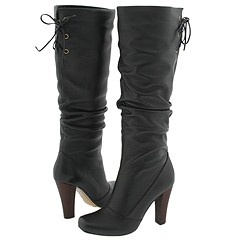 This Outfit:
skinny jeans–Charlotte Russe (29″ inseam)
turtleneck–Velvet Alba Turtleneck
tall boots–Type Z Ashley
Shopping for Skinny Jeans
Designer Jeans
Skinny Jeans have been around for a few seasons now and they don't seem to be going anywhere fast. With that in mind, purchasing a great pair of designer jeans might be worth it. They'll fit better, you can get the perfect length for your height and they'll last a lot longer. Still unsure? What about getting a pair of Cigarette or Straight Leg jeans? Then, if the trend does change, you'll still have a great pair of classic jeans that fit into boots really well.
Keep in mind that little details like zippers on the sides, embellishing, etc. is quicker to go out of style. Keep it simple if you're going to pay a bunch of money.
Here are a few great designer pairs: